Unantastbar - Live ins Herz (2016) Blu-Ray 1080i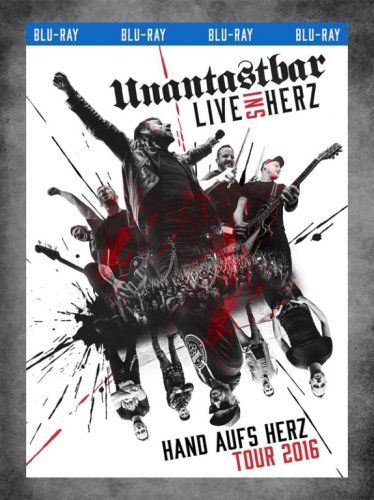 Screenshots:
Setlist:
01. Intro - Hand aufs Herz
02. Ihr könnt mich alle mal
03. Kämpft mit uns
04. Knast der Liebe
05. Aus dem Nebel
06. Bis nichts mehr bleibt
07. Gerader Weg
08. Es kommt die Zeit
09. Ich bin bei dir
10. Noch einmal - Scheißegal
11. Dein Stein
12. Solange unser Herz noch schlägt
13. Moment
14. Gefangen
15. Dein Leben, deine Regeln, dein Gesetz
16. Wir sind eins
17. Wo bist du hin?
18. Auf dich, auf mich
19. Hoch das Glas
20. Du alleine bestimmst
21. Für immer
22. Gegen den Strom
23. Das Stadion brennt
24. Ich gehöre mir
25. Für immer mein
26. Zusammen
27. Fackel im Sturm
Description:
Die fünf Südtiroler krönten 2016 -das erfolgreichste Jahr der Bandgeschichte- mit einer durchschlagend erfolgreichen HAND AUFS HERZ Tour. Nur gut, dass bereits im Vorfeld entschieden wurde, gegen Jahresende die erste LIVE-DVD/BLU-RAY aufzunehmen.
Ort des Geschehens war die legendäre Aladin Music Hall in Bremen. Gedreht wurde nach dem All or Nothing Prinzip. Alles auf eine Karte, nur einen Versuch. Schließlich sollte die gewohnte Unantastbar Live-Atmosphäre authentisch und unverfälscht eingefangen werden. Das geht nur mit der entscheidenden Portion Anspannung im Gepäck.
Jeder der dabei war wird bezeugen können, dass die Band auf den Punkt geliefert hat. All das was ein Unantastbar Konzert ausmacht, wurde 1:1 auf die Silberlinge gepresst. Das Gute dabei: Alle die es verpasst haben können das nun nachholen.
Info:
Genre:
Alternative Rock | Deutschpunk
Quality:
Blu-Ray | 1080i
Format:
M2TS | 21.04Mbps
Length:
01:54:40 | 40.66Gb
Video:
MPEG2 | 1920x1080 | 16:9 | 25.000fps
Audio 1:
DTS-HD MA | 5169kbps | 48kHz | 6 channels: Front: L C R, Surround: L R
Audio 2:
AC3 | 192kbps | 48kHz | 2 channels: L R
Language:
German

Code:

https://www.keeplinks.co/p84/5a620345ad483
pass: galexandersHD
Attention:
Files are subject to expiration and can be automatically deleted if their not downloaded 30 days after the last download.