Gipsy Kings - Live at Kenwood House in London (2004) SD Blu-Ray 1080p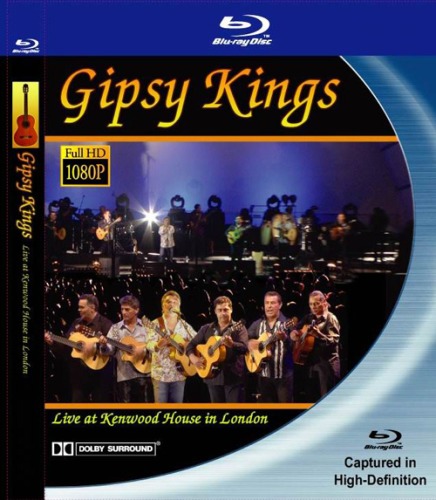 Screenshots:
Setlist:
01. Rhythmic
02. Rumba Tech
03. Lleve Me El Compas
04. Tristessa
05. Amigo
06. Petite Noya
07. Como Siento Yo
08. Sabroso
09. Como Ayer
10. A Mi Mora
11. Jobi Joba
12. Boleria
13. Fandangos
14. Legende
15. Quiero Saber
16. Tampa
17. Poquito a Poco
18. Baila Me
19. Todos Todos
20. Bamboleo
21. Volare
EXTRAS: Recording sessions
About:
In this dynamic concert video recorded (in high definition) at London's famed Kenwood House in 2004, the Gipsy Kings -- trailblazers in the flamenco genre -- rev up the crowd with a searing set list of tunes. Among the selections are "Lleva Me El Compas," "Bolerias," "Volare" "Rumba Tech," "Petite Noya," "Baila Me," "Fandangos," "Como Siento Yo" and "Djobi Djoba." Extras include footage of the group rehearsing.
Nicolas Reyes (lead vocals, guitar), Tonino Baliardo (lead guitar), Canut Reyes ( backup vocals, guitar), Patchai Reyes (backup vocals, guitar), Andre Reyes (backup vocals, guitar), Paul Reyes (guitar). Xavier Padilla (bass), Stephane Lambotte (drums), Rodelfo Pacheco (precussion), Cyril Barbessol (keyboards)
Info:
Source:
Winner
Genre:
Flamenco | Rumba
Quality:
SD Blu-Ray | 1080p
Format:
M2TS | 19.9Mbps
Length:
01:41:59+00:14:45+00:26:58 | 22.6Gb
Video:
H.264 | 1920x1080 | 16:9 | 23.976fps
Audio 1:
AC3 | 448kbps | 48kHz | 6 channels: Front: L C R, Surround: L R, LFE
Audio 2:
DTS-HD MA | 2672kbps | 48kHz | 6 channels: Front: L C R, Surround: L R, LFE
Audio 3:
AC3 | 384kbps | 48kHz | 2 channels: L R
Audio 4:
AC3 | 224kbps | 48kHz | 2 channels: L R
Language:
Spanish


Code:

https://www.keeplinks.eu/p84/581f81b59a084
pass: galexandersHD