Michael Schenkers Temple Of Rock - On A Mission (2016) BDRip 1080p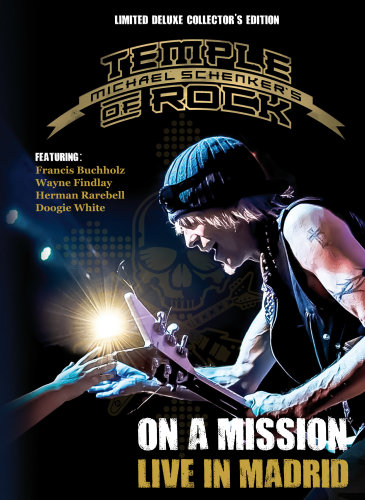 Screenshots:
Setlist:
01. Ocean Odyssey – Intro
02. Doctor Doctor
03. Live and Let Live
04. Lights Out
05. Where the Wind Blows
06. Natural Thing
07. Before The Devil Knows Your Dead
08. Victim of Illusion
09. Lovedrive
10. Coast To Coast
11. Vigilante Man
12. Rock My Nights Away
13. Saviour Machine
14. Too Hot To Handle
15. Only You Can Rock Me
16. Lord Of The Lost And Lonely
17. Rock You Like A Hurricane
18. Rock Bottom
19. Horizons
20. Attack Of The Mad Axeman
21. Communion
22. Blackout
23. Searching For Freedom - Outro
About:
• During their world tour of 2015/2016, the line-up set up their Temple of Rock in the Joy Eslava theatre in central Madrid. Michael Schenker and his crew chose this unique location with care for the recording of this concert. The musicians clapped along with the fans as they sung along to hits old and new with great enthusiasm. All musical phases of Michael Schenker's career were included and the evening became a joyful party as well as a clear message of how positively Michael Schenker's music can enrich the listener's life.
• Michael Schenker played various guitars, including for the first time his new double-neck Flying-M with 2 necks, each with 6 strings, with each neck tuned differently.
Info:
Source:
Inakustik
Genre:
Hard Rock | Heavy Metal
Quality:
BDRip | 1080p
Format:
MKV | 8615kbps
Length:
01:55:00 | 7.65Gb
Video:
H.264 | 1920x1080 | 16:9 | 29.970fps
Audio:
AC3 | 640kbps | 48kHz | 6 channels: Front: L C R, Surround: L R, LFE
Language:
English



Code:

http://www.keeplinks.eu/p84/57988a9ede19c
pass: galexandersHD